Your ideas. Our execution.
UX Solutions Designed
Around Your Growing Needs
We bring your big ideas to life!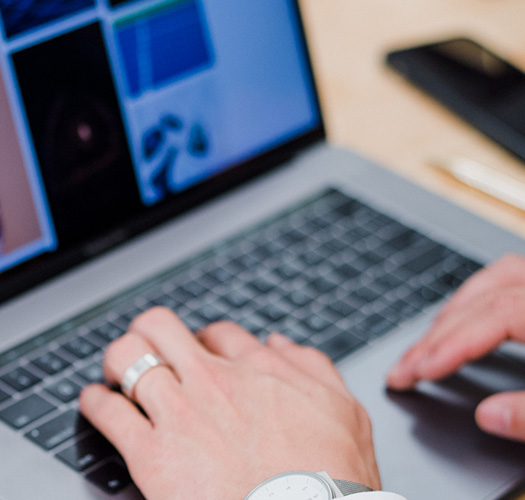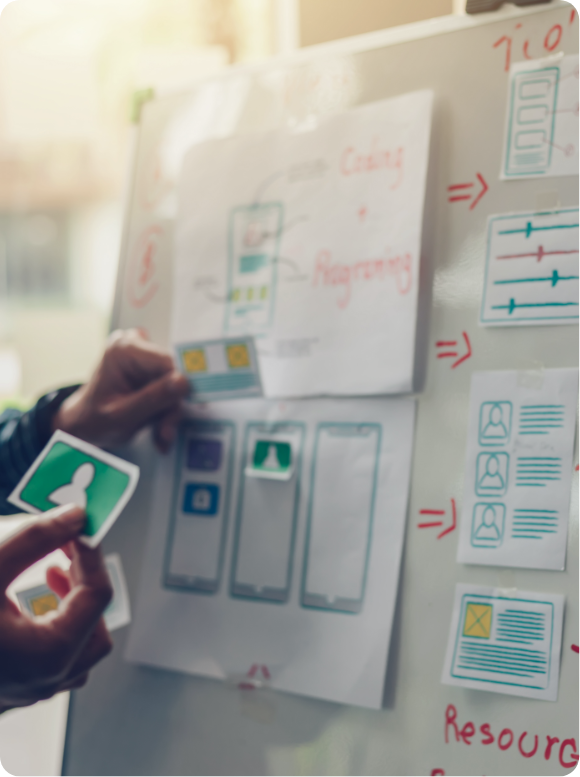 Manifest Future Success With Software That Clicks For Your Users
We listen to your concerns and initiate solutions that simply make sense. The bottom line? We're the UX design team prepared to take on your software development goals.
We're in the business of asking – what's your why?
We understand your project by getting to the root of the problem, exploring what you've done to fix it, and designing a way forward that's efficient and effective.
Whether your end game is to dramatically improve your user experience or allow your customers to see you in a new light, we'll navigate you through the process.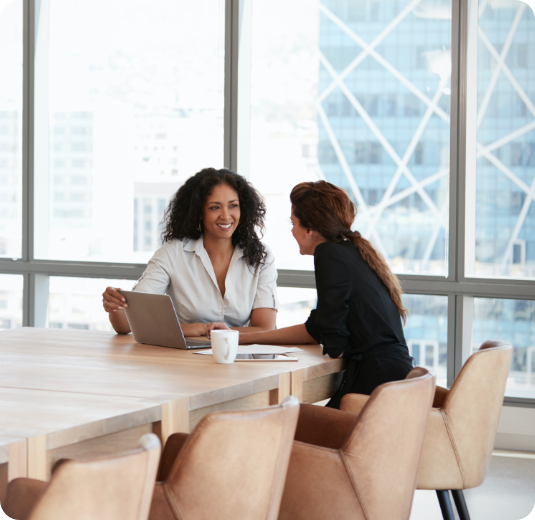 Tech-savvy solutions are our specialty. We treat each project with end-to-end preparation and planning to bring you attractive visual results that fuel your business's future success.
+ Custom Application Designs
+ Mobile App Design
+ Product Design
+ Wireframing + Prototypes
+ Request a Custom Quote for Your Project
✔ Understand your business and show it off to your users
✔ Define the problems that impact your business so we can find a solid solution
✔ Craft a consistent and relevant brand story your users will be drawn to
✔ Analyze your competition and stand out with a better design
✔ Identify your ICA and never lose sight of your ideal client
✔ Organize your copy to get your message across clearly
✔ Coordinate with designers, developers, and strategic thinkers for professional perspectives backed by know-how
✔ Document customer workflows and map out a plan for key improvements
✔ Define a clear customer journey for better user understanding and communication
Our Precise Process Is Your Asset

DEFINE THE PROBLEM
We'll observe you while you work and get to know you better to ensure we understand your business from the inside out.

Design Your Solution
Next, review wireframes and mock-ups, and join us as we blend in your branding with every step.

Develop a Plan
We will prioritize your target timeline while creating a cohesive plan that follows your customer's journey.

Unveil the results
Be part of the big reveal and pop the bubbly as soon as your software is live.

post launch support
We'll supply maintenance, support, and training even after your project has launched because we know great software takes time.
Here are some of the processes we use:
✔ Brainstorming Sessions
✔ Design Reviews
✔ High-Fidelity Mockups
✔ Ideal Client Persona Design
✔ Journeymapping
✔ Survey Design
✔ User Testing
✔ Wireframing
✔ Workflow Maps
Boost Your Bottom Line
With Powerful UX Design
We understand not all businesses have a defined UX design strategy. However, we believe clear and consistent usability is key to creating a great user experience for your target audience and leaving them with a vivid impression of who you are and what you can do to help them. No matter what stage of growth you're in, usability is important to your success.
Got Questions? We Got Answers!
We're glad to give you the answers to some questions you might have on your mind.
What Does A Typical Project Look Like & How Long Does It Take?
Projects vary depending on their complexity. We require a clear scope of work before beginning the project. But if you are stuck, give us a call, and we will schedule a consultation to learn more. 
You will get a detailed project plan at the start to guide our research and design and to give you a viable timeline.
What Happens After My Discovery Meeting?
Once the discovery meeting is complete, we will prepare your custom proposal. We research your industry based on your vision and provide you with an overview of what we propose to do for you and give a timeline of the project. Milestones and project deliverables are also provided with samples of our work. We know the investment in your company requires a thoughtful response. 
Why Does My Company Need UX / UI Support?
Having experienced UX/UI support helps businesses make more money by maintaining a positive customer experience with every interaction. Happy customers who use your software or app are more likely to remain loyal to your business, which gives you a steady flow of customers.
What Type Of Projects Can You Assist With?
We can create any custom design for your company, from a website to a mobile app to an enterprise solution. We are experts at user experience design and can create the entire sitemap, flow of the product, and oversee the implementation of the solution. We have experience with Scrum and can work with Agile teams. We have a partner to complete work for custom application development projects.
What Do You Require Before Beginning A Project?
We require a discovery meeting to learn about your project and meet with key stakeholders. We will create a proposal outlining what the project entails from the initial meeting. Your payment schedule will be included in the proposal, along with any required items.
Can My Company Do The Development In House?
Yes. We'll work with your team of developers to build out your custom-designed solution to ensure a smooth workflow.
Do You Write Copy?
We love and understand the power of copy. We have relationships with copywriters who can help you with the copy for your projects. Your copy is required before we begin designing any website projects, and most companies underestimate how much copy will be needed. We will create a content strategy outline to help you determine what copy is needed.
If you're ready to create the experience your customers deserve. We're ready to help.
Sign up for tips, free training & tools we don't share anywhere else.
By entering your info, you'll become an FBUX Insider – with FREE access to tech training,  insights, private masterminds, and inspiring episodes of the Dream+Thrive Podcast, delivered with 💜  to your inbox. (Unsubscribe at anytime.) You also agree to our Privacy Policy.